Welcome to the Society of friends of Mucem!
By joining us, you become part of a dynamic and motivated group that mobilizes throughout the year to support the actions of Mucem and thus contribute to its influence and that of the entire region.
Join the Society of Friends of Mucem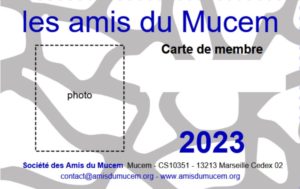 Offer the Friends of Mucem membership card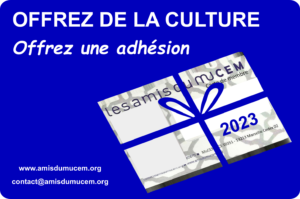 Members receive exclusuve invitations to special events and programmes, exhibition openings and private preview. Join today and enjoy a wide variety of interesting activitiesand benefits such as : free and unlimited access, without going through the ticket office, to the permanent collections and to the Mucem exhibitions but also:
A preview of the temporary exhibitions during the inaugurations
Exclusive visits with a Curator
Meetings with curators, historians, artists…
Conferences, excursions and thematic trips in France and abroad
Subscription to the "Letter of Friends" and to the "Electronic Flash-info"
Private behind-the-scenes tours of the Museum
Preferential rates on all cultural activities at the Museum
5% reduction on books and 10% reduction on products in the Mucem bookstore
66% tax deduction on the donation portion of your membership
A card is issued, valid for one year.
CONTRIBUTION AMOUNT
Please send your completed membership application form to: Société des Amis du Mucem - Mucem CS 10351 13213 MARSEILLE CEDEX 02 - France
| Membership offers | Price |
| --- | --- |
| Individual | €50 |
| Couples | €80 |
| Individual more than 200 km from Mucem | €38 |
| Couples more than 200 km from Mucem | €65 |
| Benefactor | from €200 |
| Active 18-35 year old member | €30 |
| Member 18-35 years old student-young graduate | €20 |
| Corporation | from €200 |